Press Release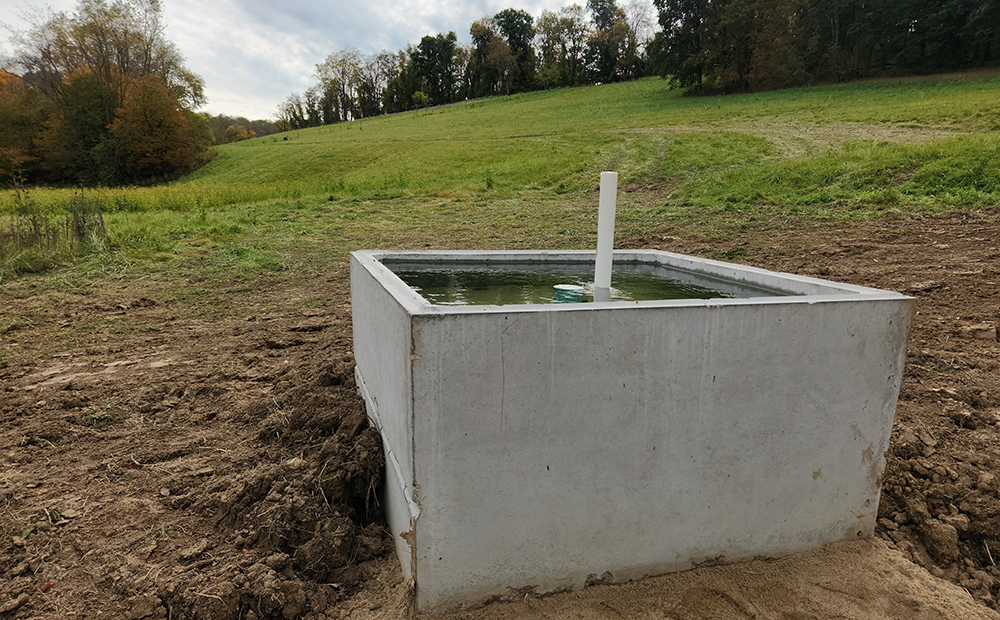 Photo: ACCD installed a spring development at Round Hill Park to provide clean drinking water for livestock.
April 14, 2023

PITTSBURGH – Allegheny County Conservation District (ACCD) announced $830,000 in grants to farms to prevent pollution in Allegheny County over the next three years.
Farming operations can now apply for funding through the Agriculture Conservation Assistance Program (ACAP) to install soil and water conservation practices that have shared environmental and farm management goals.
"The success of local farms is vital to our region, economy and food supply. This new investment in agriculture ensures the future sustainability of farms and healthy water resources in Allegheny County. ACCD is proud to offer solutions to farmers while protecting natural resources," said Executive Director Heather Manzo.
This program funds best management practices like cover crops, spring development, waste storage facilities, heavy use areas and more.
Funding for the ACAP Program was created through the American Rescue Plan Act and the Clean Streams Fund and was established with the goal of reducing non-point source pollution in streams and surface water, including sediment pollution and nitrogen and phosphorus runoff. Preventing and reducing nutrient pollution keeps the region safe by protecting drinking water, air quality, food and recreation.
"We're partnering with farmers to steward our natural resources," said Agriculture Resource Conservationist Madeleine Sheinfeld. "This program will make tangible progress to care for our soil and water through projects that meet the needs of farmers."
The program is administered by the State Conservation Commission who delegates local program implementation to conservation districts.
To apply for funding, contact Madeleine Sheinfeld at msheinfeld@accdpa.org and 412-291-8017 or visit accdpa.org/acap.
---
About ACCD: Allegheny County Conservation District is an urban conservation district that engages and leads through partnerships, innovation and implementation to conserve, promote and improve Allegheny County's natural resources.
---
Agriculture Resource Conservationist
Madeleine Sheinfeld
Madeleine joins ACCD with a background in community-based agriculture. She formerly worked with community gardens, the emergency food system, produce sales and production farms.
Get Assistance