Press Release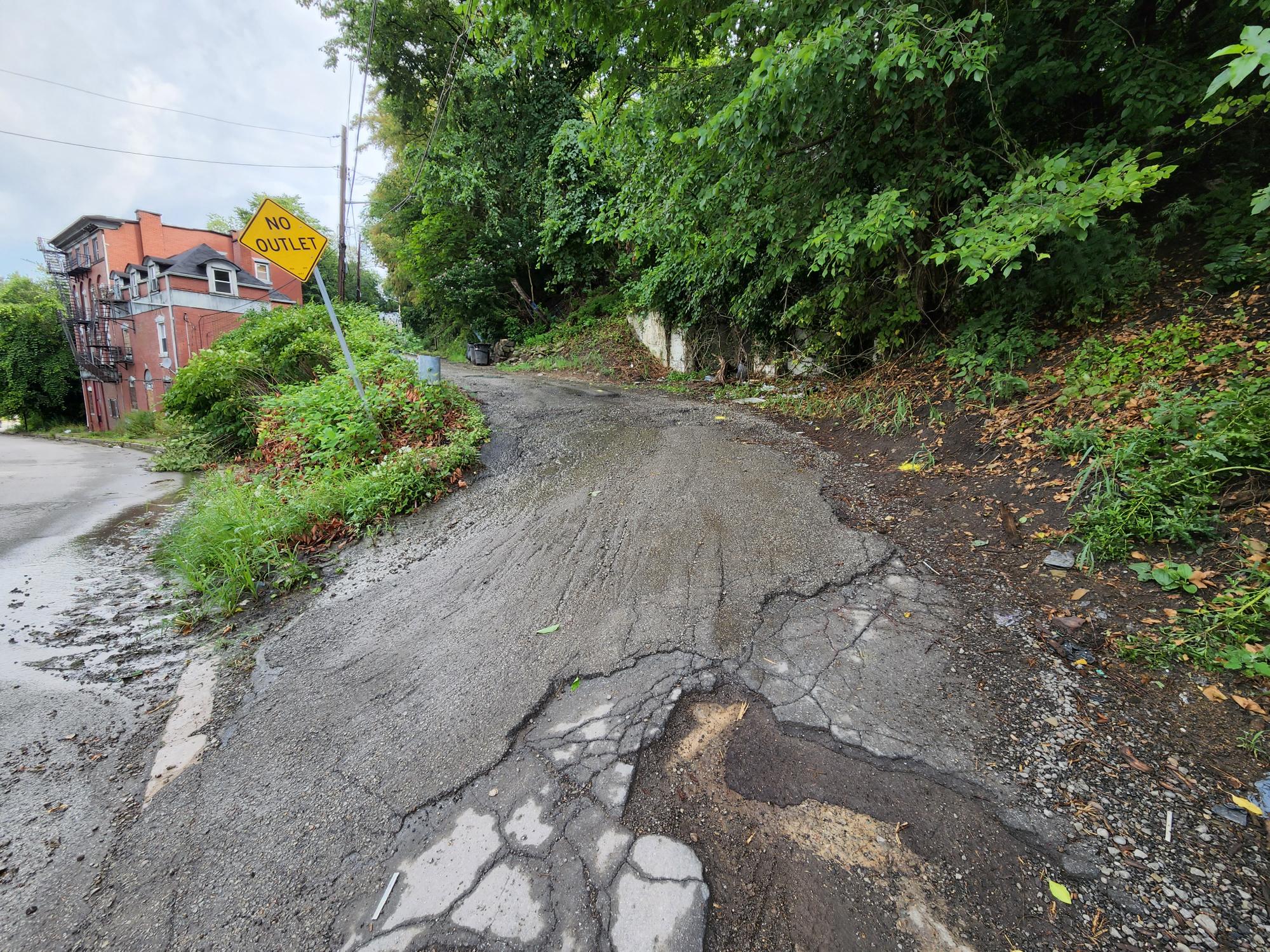 Photo: Excess water on Haverhill Street carries sediment from the landslide downhill and compromises existing stormwater infrastructure in other parts of Homewood.

March 3, 2023
PITTSBURGH – Allegheny County Conservation District (ACCD) awarded $220,000 to the City of Pittsburgh and Pittsburgh Water and Sewer Authority (PWSA) to stabilize a landslide and repair a degraded road in Homewood through the Dirt, Gravel and Low Volume Road (DGLVR) Program.
Spring seeps and unmanaged stormwater caused a significant landslide on Haverhill Street in 2018 and released a substantial amount of sediment on the roadway. This uncontrolled water continues to deteriorate the road and carries pollutants and sediment downstream to combined sewage systems along Nine Mile Run.
Excess sediment is a type of pollution that negatively impacts public health, safety and the environment. Sediment contributes to flooding and can alter stream flow, causing erosion and property loss. At this project site, sediment pollution also compromises green infrastructure installed on nearby Oakwood and Batavia Streets that would otherwise contribute to infiltration and improved environmental quality.
"This small street has a major environmental impact on surrounding roadways," said Riley Kinney, DGLVR Program Manager. "As rain events become more frequent and landslides more prevalent, we're proud to offer funding to improve this road and protect water quality for Homewood residents and affected communities across the county."
Haverhill Street is designated by the Pennsylvania Department of Environmental Protection as an environmental justice area, defined as any census tract where 20 percent or more individuals live at or below the federal poverty line, and/or 30 percent or more of the population identifies as a non-white minority.
"This program considers the intersection of the built and natural environments and makes roads safer for communities while simultaneously protecting streams, habitats and drinking water. ACCD is privileged to work with municipalities to improve these roads," Executive Director Heather Manzo said.
ACCD will fund installation of drainage improvement measures to capture and safely convey stormwater and spring seeps to nearby infrastructure. The grant will also be used to stabilize the failing hillside, which will eliminate sediment entering the roadway from the slide.
ACCD will accept new applications for the DGLVR program starting March 1, 2023. Municipalities and other government entities are eligible to apply for projects on or around roads that are unpaved or are paved and receive less than 500 cars per day in traffic.
Lincoln Borough also received $56,580 from ACCD's DGLVR program to repair Carothers Way and reduce stormwater impacts to Wiley Run.
The DGLVR program, administered by ACCD, provides education, technical assistance and funding to improve roads and the landscapes they travel through. Every year, projects are funded that promote cost-effective, environmentally-sound maintenance practices to correct pollution and improve safety.
---
About ACCD: Allegheny County Conservation District is an urban conservation district that engages and leads through partnerships, innovation and implementation to conserve, promote and improve Allegheny County's natural resources.